Community Partnering Initiatives in the Philippines and Indonesia
This website is based on the experience of conducting pilot action research projects in four locations between 2003 and 2006. The following communities were involved:
Jagna Municipality, Bohol Province, Republic of the Philippines
Linamon Municipality, Lanao del Norte Province, Republic of the Philippines
Bajawa, Fores, Indonesia
Bau Bau, South Suluwesi, Indonesia
Research was funded by the Australian Research Council and AusAID. The research partnership included academic researchers from the Research School of Pacific and Asian Studies at The Australian National University:
Ms Amanda Cahill, Human Geography
Dr Jayne Curnow, Anthropology
Ms Ann Hill, Project Coordinator
Professor Katherine Gibson, Human Geography
Dr Deirdre McKay, Human Geography
Dr Andrew McWilliam, Anthropology
Professor Kathryn Robinson, Anthropology
Local partners included for the Philippines:
Unlad Kabayan Migrant Services Foundation Inc
Bohol Initiatives for Migration and Community Development
Jagna Municipality
Linamon Municipality
The Indonesian partners were:
The project asked:
What are the assets, capacities and diverse economies that constitute the hidden social resource base of communities?
How might these assets, capacities and traditional economic networks be sustained and mobilized in better ways?
Can the greater economic integration of socially marginalized groups reduce community tensions?
This action research initiative was built on a previous Community Partnering Project conducted in the Latrobe Valley of Australia. This Community Partnering Project was documented in a resource book Shifting Focus: Alternative Pathways for Communities and Economies that can be downloaded from the Community Economies website.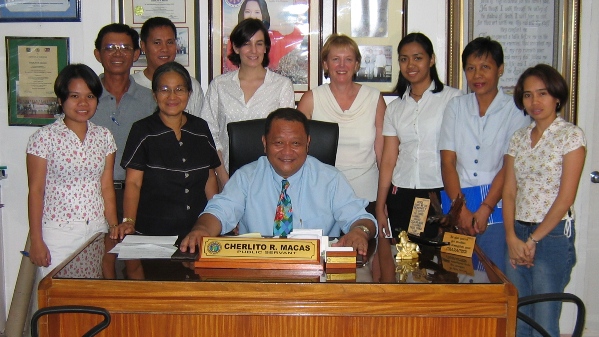 Linamon Community Partnering research partners: Unlad Kabayan, Linamon LGU, ANU researchers, community members
---
The Language of Community Partnering in Indonesia
In our work with Indonesian communities the phrase 'community partnering' (kemitraan masyarakat) and 'action research' (penelitian aksi) signalled a different kind of relationship between development agents and local communities.
The terms are intended to disrupt older patterns of paternalistic thinking about economic dependency on external providers while pointing towards the possibilities for self-reliance and ethical obligations on the part of partners.
Translating guiding ideas into Indonesian
We were keen to develop a specific vocabulary that distinguished the Community Partnering approach from the state sanctioned language of development in Indonesia and its centralised, top-down expressions of authority.
The conventional language of development (pembangunan), projects (proyek), guidance (pembinaan) and participation (partisipasi) carries the baggage and cynicism of many failed past interventions. We felt these concepts were inadequate for thinking about economic practice and possibilities in new ways.
Adapting key concepts to the Indonesian context
The process of translation also formed part of the creative and negotiated task of adapting the action research to Indonesian contexts and sensibilities. Composite notions such as the 'diverse economy' for example, which we translate as ekonomi beragam, suggested novel ways of understanding the regional economy, but still required elaboration to express its character and potential scope in local Indonesian contexts.
---