Steps for Building a Community Enterprise
The first step toward building community enterprises is to begin to ask the following questions:
What are the assets of our community that could be mobilized by enterprise development?
What needs in our community could be met through enterprise development?
What diverse economic practices could be redirected to support enterprise development:?
Who is interested in putting volunteer time and energy into research and development of an enterprise idea?
Many ideas for enterprises might arise. It is useful to brainstorm as many as possible, including wild ideas and very ordinary ideas. It is only in the process of research and development that these ideas will be tested to see which ones can be made real.
Encourage a group of interested people to form an enterprise research and development group. These people will need to meet regularly to discuss how to see if a particular enterprise idea is going to 'have legs" and come into being. This group will need to be committed enough to offer their volunteer labour to the enterprise development process.
Conducting a Feasibility Study
People will gravitate to the ideas they are most interested in. They may need encouragement to think that they can organize a feasibility study.
A feasibility study involves talking to people, asking hard questions, searching for assistance, applying rational thinking and not losing sight of the vision that communities can become entrepreneurs. It is best if the feasibility study is undertaken by those who are interested in particiapting in the community enterprise. Doing the feasibility study together gives people the opportunity to see how they can work alongside each other.
Elements of a feasibility study:
Visits to similar enterprises in the wider region to "see how they do it"
Interviews with local suppliers of raw materials to investigate volume of supply, seasonaility, prices and price fluctuations, quality issues
Research into potential markets, eg interviewing stall holders in the local market, interviewing other businesses who might buy the product, interviewing consumers directly
Research the technical production and packaging requirements
Find out about government health regulations
Look into different organizational structures for the enterprise and their legal requirements
Discuss possible ownership and governance structures
Discuss different options for raising inital capital to get started
All this information can then be compiled into a Business Plan. This powerpoint display reports how the Linamon Community Parterning team approached the business feasibility study.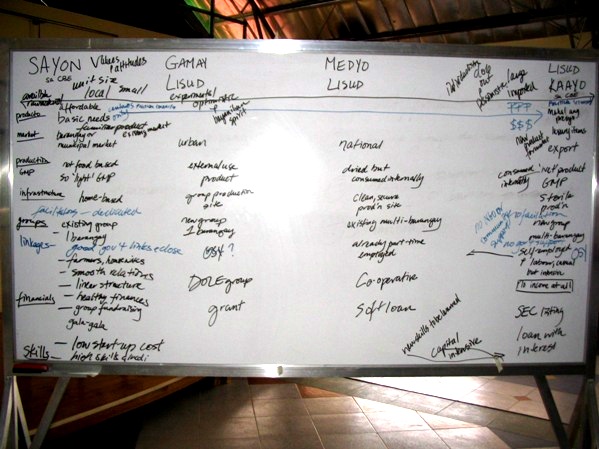 Workshop whiteboard with elements of a business plan
---
Enterprise Experiments and Business Plans
The text books advise that business plans are a necessary ingredient of enterprise development. The crucial question is when to focus on a business plan? If an enterprise development group has just formed and is needing to figure out how to work together it may be better to start experimenting with an enterprise first and leave the business plan until there is more confidence that the group can get along.
If too much time is spent on abstract business plans and not enough on concrete doing, people may get discouraged and lose interest. Often business plans get bogged down in matters of financing---how can start-up capital be raised? how can on-going financing be arranged? etc. But in practice many community businesses can begin with very little capital as people are willing to put their savings and sweat into the project to see if it might take off. As one social entpreneur put it, for any kind of business to work there must be "skin in the game". If community members feel that some of their skin is in the business it is more likely to succeed.
A community enterprise business plan
While experimentation and voluntary labour is fine for the initial stages of enterpise development, sooner or later a business viablity plan must be made and this is when the group might need to focus on important commercial issues as well as community benefits. The Community Enterpise Planning and Monitoring framework developed by John Pearce might help to organize thoughts.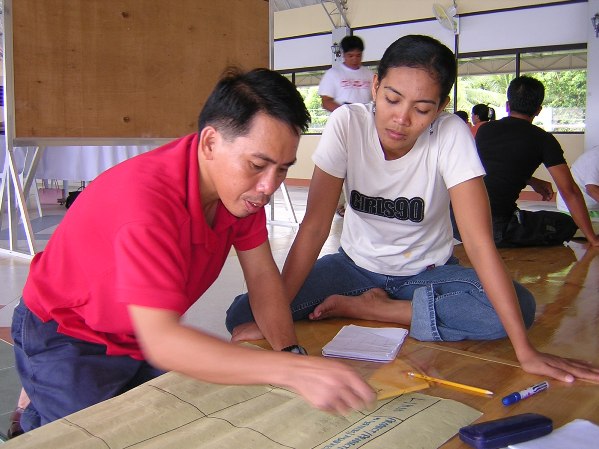 Community researchers working on business planning
---
Enrolling Support
As the enterprise starts to take shape there will be many areas of expertise that can be drawn on for support. These may include:
Organizational development
Legal
Technical
Financial
Marketing
Site management
Moral
Conflct resolution
Problem-solving
Some of this expertise might be available locally--in the local government offices, in NGOs, in community organizations, in family support networks. There are also the resourcesof the province or region to be drawn upon. International support can also be accessed via the internet and aid organizations.
Try to build up a network of wise people whose counsel can be sought at various stages of the enterprise development journey. This powerpoint display shows how the Linamon Community Partnering team enrolled supporters.
The case of migrant remittance funds
Migrant workers from the Philippines come home for a vacation month during their contracts. They are often interested in becoming partners for local development. Remittance funds could be an important source of capital for community based social enterprises. What these families of migrant workers are looking for are initiatives to invest in. One goal of Community Partnering is to generate such initiatives and create partnerships between absent and present community members.
Reflection and Evaluation
A community enterprise is an ambitious undertaking. It tries to
solve social and environmental problems
engage with markets
cover costs
make a profit that can be used for community ends
A process of regular reflection on these objectives will help to identify how the enterprise is going. In the early stages it may not be feasible to achieve all of these objectives. But it is important to evaluate each in turn so that decisons can be made about future courses of action. If only a few objectives are being met at any one time, the sustainability of the enterprise might be threatened. The Social Audit Check List is a useful tool for evaluating where the enterpise is up to in achieving its goals. It can also be used to make future plans for realizing social and environmental, as well as business goals.
To grow or not to grow?
Many community based enterprises are under pressure to scale up. This is usually interpreted as growing bigger. But thre are many different ways of scaling up. See the attached set of Discussion Questions about Scaling Up Community Based Enterprises and use them to help clarify your particular development pathway.